This page lists videos for social role valorization.
VIDEO Resources
A History of Human Services,
Universal Lessons, and Future Implications
In September 1998 Dr. Wolfensberger, with the assistance of his associate, Susan Thomas, presented this two day lecture at Millersville University, Lyte Auditorium, Millersville, PA. The executive producer of the video is Thomas Neuville, PhD, professor at Millersville University. The video is available at Wolfensberger – The History of Human Services
Valuing Lives: Wolf Wolfensberger and the Principle of Normalization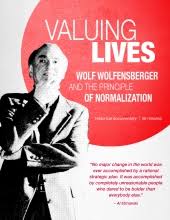 A good idea really can change the world. Through rich archival media and dozens of interviews, "Valuing Lives" explores the principle of normalization, an idea that challenged our fundamental assumptions about people with intellectual disabilities, and the iconoclastic professor whose intense workshops trained thousands of human services professionals in the theory and practice of this idea. This full length documentary can be purchased or rented here.
You can view the film trailer here
Extended Interview - Wolf Wolfensberger

Extended interview with Dr. Wolf Wolfensberger on the topic of Social Role Valorization.

Social Role Valorisation Short Film By Kifsa

Social Role Valorisation Short Film

PCP Model: Social Role Valorization

SRV PCP Model: Key Elements and Challenges