The below links represent organizations and individuals connected to Social Role Valorization, and are listed as resources to explore. If you wish to add to this list, please contact us with the suggested link.
incharge.org.nz
imaginebetter.co.nz
absafeguards.org
srvip.org
maalliancepersonalaction.wordpress.com
kendrickconsulting.org
darcyelks.com
wolfwolfensberger.com
keystoneinstitute.com
viaa.org.au
instvalor.ca

Facebook Links
There are at least two active Facebook groups dedicated to Social Role Valorization as of 2019. You may request to join either of these groups at:
https://www.facebook.com/groups/8623212156/
and
https://www.facebook.com/groups/177849802342830/
A History of Human Services,
Universal Lessons, and Future Implications
In September 1998 Dr. Wolfensberger, with the assistance of his associate, Susan Thomas, presented this two day lecture at Millersville University, Lyte Auditorium, Millersville, PA. The executive producer of the video is Thomas Neuville, PhD, professor at Millersville University. The video is available at Wolfensberger – The History of Human Services
Valuing Lives: Wolf Wolfensberger and the Principle of Normalization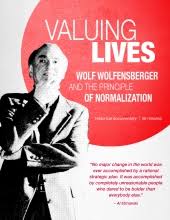 A good idea really can change the world. Through rich archival media and dozens of interviews, "Valuing Lives" explores the principle of normalization, an idea that challenged our fundamental assumptions about people with intellectual disabilities, and the iconoclastic professor whose intense workshops trained thousands of human services professionals in the theory and practice of this idea. This full length documentary can be purchased or rented here.
You can view the film trailer here.